7 Ideas for Selling more Vehicles this Winter
Winter is a great time to sell cars, why?
Because this is when everyone is either out shopping or looking for bargains – new year, new car!
We have put together 7 ideas, to help promote your vehicles for sale.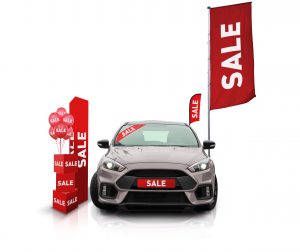 1) Pyramid Car-Toppers & Side-Car Stands
The Pyramid Car Topper is our best value car-top advertising unit, ideal for car forecourts. The base is secured using two strong, rubber protected magnets, which keep the base secure on the vehicle.
The Side-Car Stands slot into a car wheel base stand, to help advertise your offers (available in 2 sizes).
Learn more…in our Automotive Guide >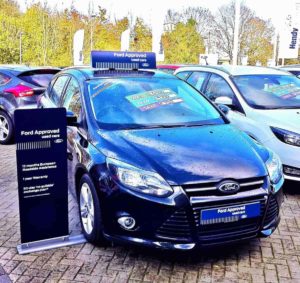 2) Pricing Units – to suit all types of vehicles!
These car price displays are ideal for forecourt use and car showroom advertising, with units designed to take printed A4 sheets, to systems fitted with flip-over price books to help advertise high priced vehicles. Every type of dealer is catered for.
Learn more…in our Automotive Guide >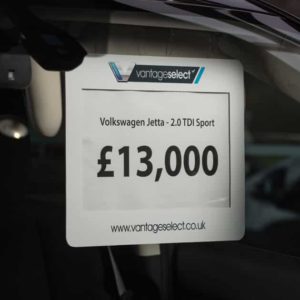 3) Flags – catch the eye of passing customers!
Our new long-life flags are manufactured from a stronger weave for greater durability, so you can forget about them shredding over short periods of time. We have also developed our new Heavy Duty Feather Flags, for regular outdoor use on the forecourt.
Learn more…in our Automotive Guide >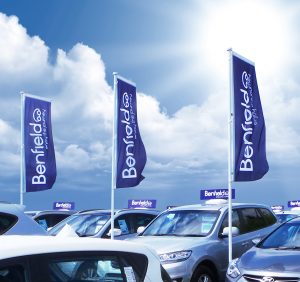 4) Windscreen Sashes – great for highlighting your sale stock!
Magic-Cling windscreen sashes are longer lasting and can be used multiple times without any loss of quality, this new material ensures that there will be no creases or wrinkles when applied.
Learn more…in our Automotive Guide >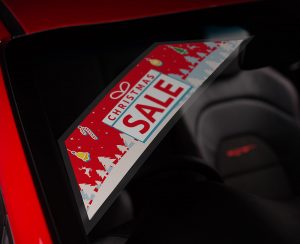 5) Personalised Number Plate Covers – re-use for multiple events!
Personalised number plate covers are a simple and cost-effective way to brand each car on your forecourt. 
Learn more…in our Automotive Guide >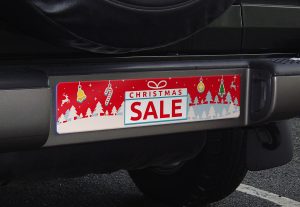 6) Mini Feather Flags – attract attention to your sale or event from the roadside! 
Feather Car Window Flags attach over the top of the car's window, using a patented pole and clip design. Each flag can be personalised with your company name and/or logo. Perfect for attracting attention to your sale or event.
Learn more…in our Automotive Guide >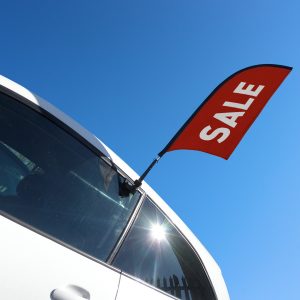 7) Showroom Event Stands – low cost & disposable!
The Toblerone standee is ideal for placement in any car showroom, with 3 side panels for viewing from all angles and a height of 2.1m. This great value system is lightweight and easy to erect. Perfect for new car launches, product placement and promoting offers and events.
Learn more…in our Automotive Guide >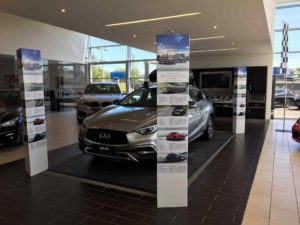 About Portfolio Display
We can help your motor dealership to make big improvements to your printed advertising materials, point of sale and for sale signage. These improvements will help you to look professional, so you sell more cars, vans and trucks.
We support the following Automotive clients;
Independent car, van and truck dealerships
Motor groups
Vehicle manufacturers
Finance and warranty companies
Our range of automotive POS materials enhances the appearance of used car forecourts and new car showrooms, helping to attract more visitors to your motor dealership.
If you need advice on which products can work for your dealership, please contact our advisors who can recommend a range of automotive display products.
All the best,
Rob Walker (Director)
Portfolio Display Ltd.
sales@portfolio-display.co.uk
01422 370021