How can Car-Top Displays be used for Effective Vehicle Advertising?
Magnetic car-top displays are necessary for any motor dealership as they are an effective measure for showcasing vehicles to potential customers. There is an array of benefits to using car-top displays which can contribute to the smooth and professional operation of your showroom.
Cost-effective advertising solution
Thanks to our investment in the latest print technology, we can produce our magnetic car-top displays at excellent value for money. What's more, our vehicle displays can be re-used, where our Personalised Car Top Header Panels able to be switched out when necessary. The panels on our car toppers can be printed double-sided with your chosen graphics applied, allowing you to promote your brand imagery and any special offers without the need for additional materials.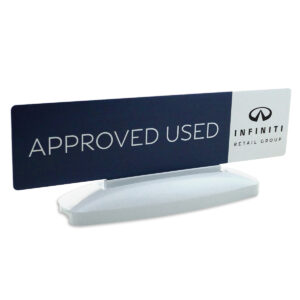 Simple to install and replace
Each of our car-top displays can be secured to the vehicle roof using strong rubber magnets or suction cups, depending on your chosen design. We also supply Rallye® bases for our header panels. Attaching the vehicle-top display to the roof with these methods allows for a secure fit and the convenience of easy removal as needed, making it a practical solution for advertising on a dynamic showroom floor.
Customisable graphics to suit your branding
Whether you want to spruce up your showroom accessories for a cohesive look, to advertise special offers or differentiate specific model variants, our car-top displays can be tailored to your needs as a vehicle dealer, and all in stunning high-resolution print. Our magnetic car-top displays are a suitable size for strategically placed and attractive call-to-action style messages to help support your vehicle sales.
Boosts visibility, indoors and out
We produce a range of car-top displays, with styles designed for use inside the showroom and out on the forecourt. Placing your brand imagery, slogans, and key special offers on the roof of your vehicles is a great way for your presence and any great deals to be seen as customers pass your dealership. The smallest accessories count to build an attractive façade, so there's never a better time to be sure the finer details are covered.
Versatile advertising tool, whatever your specialty
We're proud to work with vehicle dealers across the motor industry, ensuring solutions are available for the sale of new and used cars, commercial vehicles, and HGVs. Our car-top displays can be simply applied to the roof of any vehicle with the sturdy magnetic base, allowing you to display them around the showroom floor for a visually appealing look across your vehicle inventory.
With such ease of installation and endless opportunity to customise the appearance of your printed car-top displays, they are an absolute forecourt staple. With strategic use to attract new customers to your latest offers, therefore increasing the overall visibility of your dealership, you stand to increase your foot traffic and boost those all-important sales.