AquaZero – The New Waterless Car Cleaning Product
Would you like to clean and polish your vehicles with no water in one easy application?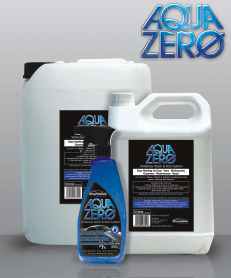 Portfolio Display have launched a new waterless car cleaning product that will revolutionise the way we clean our cars forever. No more hose pipes, buckets or sponges. Clean your cars in the garage, on the forecourt and even in your showroom.
AquaZero acts as a  waterless wash and wax system that will clean and also protect your car, leaving it to stay cleaner for longer. AquaZero will help your business to save time cleaning and lower your water usage. Clean away dirt and grime in minutes and produce an amazing quality finish.
How does AquaZero work, why won't it scratch?
1) Dirt particles are encapsulated by special polymers and actively 'lifted' from the surface of the paintwork.
2) The encapsulated dirt is then trapped by the microscopic fibre of the Microfibre cloth (available for purchase).
3) A coating of silicone polymers is then deposited on the surface which lifts dirt, repels water, makes the surface shine and
is anti-static. This helps to prevent dust being attracted to the surface.
Visit: www.drymotive.com for more details
100% Satisfaction Guarantee – Or Your Money Back
We are so confident that you will enjoy using our range of waterless car cleaning products that we offer a money back guarantee if you are not completely satisfied. See our terms
Limited FREE Offer
FREE pack of 6 Microfibre cloths with purchases over £30 (plus VAT, valid until 31st March 2011)
AquaZero has been developed for the motor trade with containers available up to 10 litres.
Each large container comes with 2 empty spray bottles. Special Microfibre cloths are required for use and can be purchased in packs of 6, 12 or 24. We recommend purchasing our high quality Microfibre cloths for use with AquaZero, for the best results.
AquaZero can be purchased online: http://www.drymotive.com/trade.html
Businesses should have water recycling systems in place if using large amount of water
Businesses who use large amounts of water should have a water recycling system in place, otherwise they could be breaking the law. With this product you no longer need to worry about your water usage.
Cut your water use on washing vehicles today by 100% by deciding to use AquaZero.
Recent News Stories:
Businesses concerned by water use (BBC News – November 2010)
Ireland – Water Shortages (BBC News – December 2010)
Distributors & Resellers
We are looking for distributors for our AquaZero product range If you are interested in reselling this product, please email sales@drymotive.com