Types of Windscreen Graphics Available for Selling Cars
Windscreen graphics are a favourite advertising accessory for car dealers looking to spruce up their forecourts with visually appealing and informative imagery. We look at some of the types of windscreen graphics available, as well as the choice between our vinyl and Magic cling adhesive materials, to help you get the most out of your vehicle window displays.
One-way vision for practicality on the road
Graphics made from perforated vinyl are excellent for enabling customers to view an attractive advertisement from outside the vehicle, without obstructing the view of the driver. This is particularly helpful for test drives, or when vehicles need to be moved around the sales environment. As our window graphics are customisable in size and shape too, you can maximise the space you need for your promotional message.
Magic Cling and Premium Magic Cling vs Perforated Vinyl
Our windscreen sashes can be printed to a range of materials, depending on your required use. If you are looking for single-application, long term use on the window exterior, perforated vinyl is a strong choice, but it might not be the most suitable material for you if repeated use is required.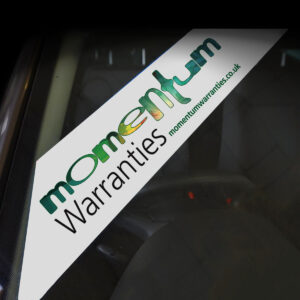 Interior window graphics can be applied to a window cling surface specially designed for reusability. When choosing either Magic cling or Premium Magic cling, you won't need to deal with application of adhesive or removal of any residue once it's time to take the advertisement down. This is particularly handy for your temporary and seasonal advertising campaigns. Our Premium Magic Cling graphics are the best value for longevity and ease of use multiple times over.
Bespoke windscreen graphics on request
Depending on your advertising needs, we can offer custom sizes and shapes for your windscreen advertisements. Whether you need a circular sticker for promoting special offers, or a bold full-size graphic to cover the windscreen, our team of advisors are on hand to help with a quote for your desired promotional message. Our state-of-the-art print technology enables us to print your graphics faster and with less waste, to keep larger quantity print jobs convenient and cost-effective.
We offer a variety of window graphics for car sales, each with their own benefits for maximising the impact of your promotional vehicle displays. Take a look at our range of windscreen graphics to get started on finding the ideal solution for your motor dealership