Double Sided Flags for Your Vehicle Sales and Dealership Promotions
There are countless marketing tools dealerships like yours can use to attract customers in the sphere of vehicle sales and rental. We find our double-sided printed flags to be a popular method, and one of the most essential forecourt accessories. If you are considering investing in some new forecourt décor, we think no vehicle dealership is complete without double-sided flags, and here we look at the reasons why.
Increased visibility
First and foremost, flags are designed to be seen from a distance and from every possible direction. Whether your dealership is situated on a local road or just off a busy motorway junction, you'll need to be sure your location is recognisable with a visually appealing aspect. Our double-sided flags will be printed with your brand imagery in brilliant full colour, giving prominence to your dealership at every angle.
A low-cost promotional solution
Advertising doesn't have to be expensive. Some of you may be pushing for further reach in the media which can often involve a great deal of investment, but the small elements make a great impact. Whatever your budget, we offer cost-effective printing for your double-sided flags and print to durable material to ensure longevity on the forecourt.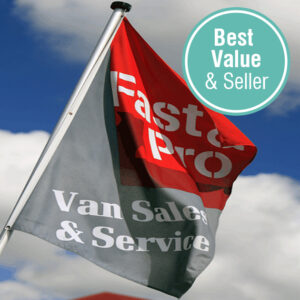 Room for customisation
Along with various finishing options, there's plenty of space for customising your flags. Simply upload your company graphics for us to print. If you could do with some help, we have a great team of advisors who will work with you to tailor your flags to your promotional needs. We can assist with the basic set-up, or we can produce a personalised design from scratch based on your brief with our Creative Artwork Service.
Great for portability
You might want to utilise your promotional materials further afield at car sales events. Our double-sided flags are suitable both indoors and outdoors and can be fitted to a rotating support arm for maximum visibility at head height and above. Move them as necessary and when it's time to pack up and head home, the flags are easily folded away and put into storage.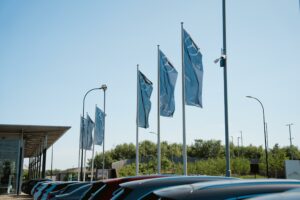 Durability on the forecourt
Whereas traditional polyester is far more prone to tearing, our double-sided printed flags are produced on Longlife polyester. This can also hold up to look better for longer in strong sunshine. Ensuring we use the most weather-resistant materials means you can be confident your forecourt flags will endure the elements, and they will make a valuable contribution to the frontage of your dealership.
Versatility in the Showroom
Besides decorating the boundary of your car dealership, you can place printed flags at points of sale to highlight specific warranty products and guarantees, promote the arrival of your newest vehicle model, or use them to attract attention to your next significant sales event. The adaptability of our promotional flags and finishing options gives you ease of use, wherever they are needed.
With these benefits in mind, double-sided printed flags are an essential tool for car dealerships looking to improve the recognisability of their brand, appeal to new customers and drive more of those all-important sales.
If we can be of help with producing flags for your motor dealership, please speak to one of our advisors.
Our expert sales team are on hand to help. Just call us on 01422 702032 or email us on sales@portfolio-display.co.uk.