Branded Gazebos for Outdoor Events and Vehicle Click & Collect
When the fair weather takes corporate events and entertainment outdoors, why not kit your dealerships out with one of our fully branded gazebos. Perfect for click-&-collect vehicle sales and meeting and greeting customers outdoors.
A host of branding options available for your outdoor promotional display
We have a number of options to choose from when it comes to printing your branded gazebo. Choose which walls of your gazebo you would like to be printed on – or why not brand all sides? Printing on the walls can be single or double sided and we include the option to add windows if desired. We will also apply your branding to the entire canopy.
To bring more natural light into the gazebo while maintaining some security, you can instead create a barrier effect by selecting side walls at half the standard height.
Our gazebos are supplied in the popular 3×3 size and its elongated version, 3×6, but they can be easily joined together to form larger areas. They are simple to transport and can be erected quickly thanks to their smart pop-up design.
The sturdy aluminium frame makes the gazebo ideal for outdoor events, and the fabric used on the walls and canopy is both durable and waterproof. These strengthening aspects help to secure long-term use and endurance when the weather takes a turn.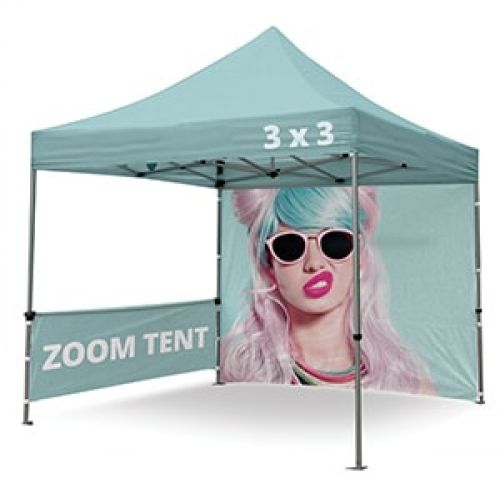 Who can benefit from branded pop-up tents and gazebos?
Our gazebos are suitable for dealerships operating click-and-collect services for their vehicles. They are also ideal for outdoor events, where you'd like to create a temporary office space to meet and greet customers.
A branded gazebo is an excellent promotional tool in busy environments, acting as a large format promotional display when standing out from the crowd is a must.
In the automotive industry we are seeing an increase in our gazebos being used for vehicle click & collect services. They are ideal for handovers which don't always need to take place within the showroom.
You can quickly create a secondary outdoor greeting space, which is ideal for salespeople working out on the forecourts. Providing them with shelter during rainy weather conditions.
We also supply a range of inflatable tents and gazeebos where the entire unit is branded with your design. Although more expensive than the original Gazeebo, these are a real eye catcher and really bring your branding to life.
Again these are available in a number of different sizes and shapes, to suit your event. To get the best possible advice we recommend speaking to one of our advisors.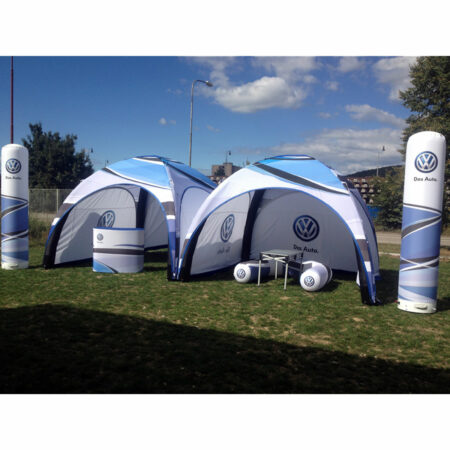 Get started with your gazebo order today
At Portfolio Display we have helped countless businesses to elevate their promotional imagery, thanks to our expertise and personable service.
Request a quote or call us to discuss your requirements further on 01422 370021. Alternatively, you can email us on sales@portfolio-display.co.uk.