Updated Dual-Sheet A4 Pricing Units Reduces Costs & Wastage
Our dual-sheet pricing units are designed to hang from the sun visor to display your prices clearly, but they don't need to be limited to featuring the price alone.
Detail all the essential product information you need on our improved dual-sheet A4 pricing displays. We've designed our units so you can maximise the space to exhibit as much key information as possible for your customers to reference on the forecourt.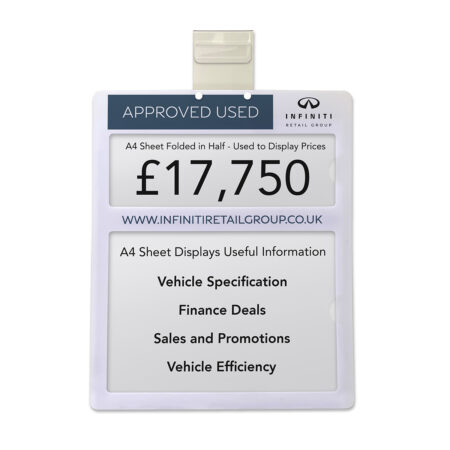 Why do customers love our dual sheet pricing units?
Our refined pricing unit can hold a full A4 sheet and a half A4 sheet folded in landscape, which gives more room to feature helpful vehicle information and promote special offers or finance deals.
The unit also includes a full colour section for branding at the top as well as space across the middle for your website or company strap line. It also now comes with detachable hooks, which significantly helps to reduce print and transport costs.
Thanks to our ongoing investment in cutting-edge print technology, we are able to manufacture each pricing unit faster than ever before. Along with the new smart design and the use of durable polycarbonate materials, your pricing units can be displayed repeatedly.
All of this means we can produce your units at the lowest prices on the market, while also continuing to play our part in reducing waste.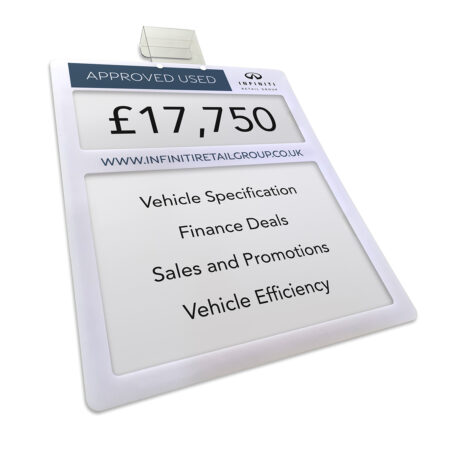 How can our dual sheet pricing units work for you?
Our dual pricing units have proven to be a hit with specialist car traders and are a favourite for dealers operating Approved Used schemes, who rely on communicating clear and concise finance and vehicle information.
However, they will work just as well for dealers in caravan, motorhome or commercial van sales, where you may want to highlight certain specifications and unique features.
We know how important it is to stay up to date in a dynamic market, so our vehicle pricing units are designed to be easy to load with new information at any time.
These price units, along with our entire range of printed promotional materials, are produced, finished, and shipped from our UK factory, with options for international delivery.
We aim to despatch most of our POS materials within a 6 day period with an express option within a super quick 2-days.
Our outstanding turnaround times mean it's never been so easy to quickly distribute promotional materials to multiple sites and put them straight to work out on the forecourt.
We also believe in cost-effective solutions wherever possible, so if you have any particular queries, please don't hesitate to get in touch with our specialist team who will be glad to help.