Why Banners make useful marketing and advertising tools
A classic approach in traditional marketing, printed banners offer an excellent opportunity to promote your car dealership, business or event to the passing public at low cost. We offer stunning quality banners and signs at the best prices, giving you the chance to display your message confidently and effectively.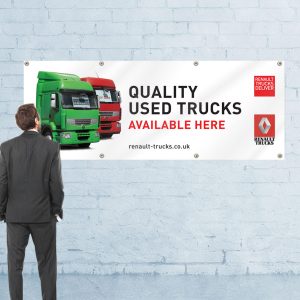 We wouldn't be banner specialists if we didn't enable you to choose from a wide variety of styles. PVC and mesh banners can be single or double sided, and we can produce banners suitable for both interior and exterior purposes.
Our range also includes roll-up banners, pop-up banners, street banners and the appropriate outdoor banner stands and frames for easy display.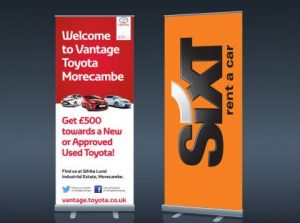 Whether you're a small store, motor dealership or a large corporation, a strategically designed display banner is key in attracting new and familiar customers to your products and services, setting the encounter up with a memorable brand image and a clear message.
Advertising banners are highly portable and require next to no construction time, making them ideal for display at events, indoors and out. They can also be used time and time again, which makes them a cost-effective advertising solution.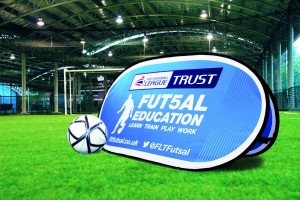 We manufacture everything from our UK facilities, ensuring the fastest possible turnaround so you can start advertising efficiently as soon as your print arrives.
While there are fast delivery options we never compromise on standard, which means we keep you involved in the process from start to finish, with stunning results in high quality, full colour print.
Our advisors are able to offer suggestions if you are unsure, which type of banners you require.
We only use the latest state-of-the-art technology, which enables us to print to whatever size and design you need for your next printed banner project.
Portfolio Display is proud to produce superb quality print jobs with excellent turnaround times.
Take a look at our five-star reviews here and on TrustPilot, to see how we've been able to help countless businesses with their advertising projects, however large or small.
Regards,
Lottie Bunch (Business Account Manager)
Portfolio Display Ltd.
enquiries@portfolio-display.co.uk
+44 (0)1422 702032