New Forecourt Signs with Concrete Bases for Maximum Stability
New Heavy-Duty Forecourt Signs
We have just added a new range of heavy-duty forecourt signs, with concrete bases that guarantees stability with only a small footprint.
The added steel springs offer panel movement to aid stability in windy conditions.
We have two types of heavy duty forecourt signs, our large format double-sided poster display and our 7-meter concrete base banners: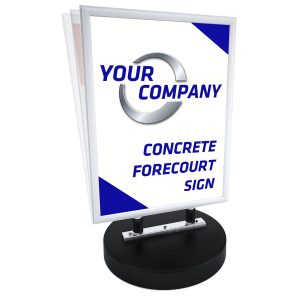 Concrete Base – Waterproof Forecourt Signs
Our concrete base waterproof forecourt signs are ideal for external use in all weather.  The waterproof glazing panel means you will not get faded or water damaged posters, making them ideal graphic signage displays.
With a silver front opening frame, which accommodate 2 posters on either side, these concrete base waterproof signs are available in three sizes;
60″ x 40″
30″ x 40″
or A0 size.
Visit our concrete base waterproof sign page for more information here >>
Concrete Base Banner System Frame
Our concrete base outdoor banner frames are manufactured from a robust metal, making them ideal for use with PVC eyeletted banners. They come with 4 concrete bases and the banner frame size available is 1m x 7m wide.
All of our PVC banners are produced using advanced printing techniques to produce a high quality, full colour print.  Also, we offer double sided banner printing, so ideal if you want to capture the attention from both sides of the banner.
Visit our concrete base banner system for more information here >>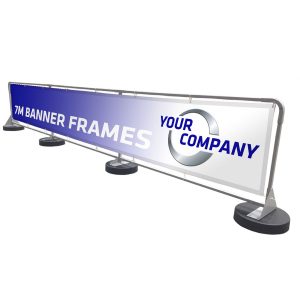 All the best,
Rob Walker (Director)
Portfolio Display Ltd.
sales@portfolio-display.co.uk