Create Impact with the New Forecourt Feather Flagpole
Impact on the car forecourt –
The new forecourt feather flag poles are designed to be heavy duty, for regular use out on the car forecourt and come available in 2 sizes: 3.3m and 5.3m.
You position them under the cars wheel and are suitable to be used out on the forecourt as well as outside at events.
They are  versatile enough to be used on all ground types, soft or hard, as long as they are trapped under the vehicles wheel, using the base plates supplied.
Feather flag poles are not used as permanent fixtures as quite often they are used as a temporary or semi-permanent solution for display and advertising.
This gets round any planning permission issues you may encounter from local authorities.
The curved arm and white powder coated Aluminium poles make them elegant and attractive to the eye.
They offer a great advertising space, without being too obtrusive, perfect for when space is at a premium.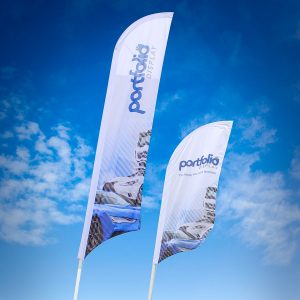 The benefits of using Heavy-Duty Feather Poles include:
Massive impact on the forecourt
Very easy to move and erect
No ground works or planning permission required
Portable so you can take to events / shows
Easy to maintain
If you wish to create a lasting marketing impression, visit our heavy-duty feather flagpoles page for more information here:
All the best,
Rob Walker (Director)
Portfolio Display Ltd.