Benefits of Printed A4 Pricing Displays for Car Sales
No motor dealership is complete without comprehensive pricing displays. Your customers will appreciate having pricing and vehicle specification details readily available while they are on the hunt for their newest car, and there are numerous benefits to consider when it comes to choosing from our printed A4 pricing displays.
Clarity for fast vehicle sales
Price range is one of the most important factors to influence the decision to purchase a new car, so it is crucial to have this information clearly on display. Our pricing displays suit an A4 sheet, and our Deluxe Pricing Unit will fit two of these to allow you to supply any additional information relevant to the vehicle model and your dealership services. This will help to make for a smooth and efficient experience as your customers browse the forecourt for their newest car.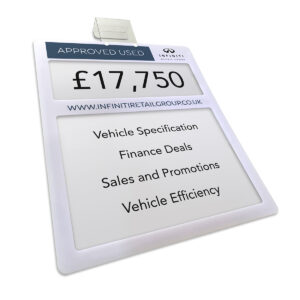 Quick and easy comparison of vehicle features
For the average customer, purchasing a new car is not necessarily an easy decision, with so many makes and models to choose from. Our A4 sheet pricing displays give you plenty of room to showcase the key features and specifications of each vehicle. Presenting the information concisely here helps to make the choice simpler for the buyer and that bit easier for you to make the sale.
Transparency builds trust
In the market for new and used vehicle sales, it's more important than ever for customers to feel confident in their dealer and their purchase. They need to know they are receiving a fair deal, and this is paramount for maintaining a great customer relationship which can potentially lead to securing valuable repeat business in future. Using our pricing displays you can clearly present any purchase conditions, finance terms and add-on features to build trust with your buyers.
Convenience for dealer and customer
We know the motor trade is a dynamic place and sometimes it's necessary to update prices to respond to shifts in the market and fluctuations in demand. That's why we've made sure it's easy to switch out the sheets inside our A4 pricing display units. The display unit can be positioned on either sun visor, which means your customer can access pricing and specification information without needing to ask for it, giving you more time to answer the more pressing queries.
Give an air of professionalism
Although we offer different options for the layout of our A4 pricing displays, each one can be personalised with your dealership branding for a stylish and professional touch. Printed displays with your imagery and additional vehicle information gives an impression of your expertise and meticulous care for the finer details.
As well as forming an integral part of your forecourt and showroom sales décor, pricing displays can do more for your dealership than simply giving the numbers. Using these strategically to highlight key product and brand information can really help to build rapport with your customers. Why not look at our range to find your next printed A4 pricing display?