Affordable New A4 & A5 Vehicle Pricing Display Units
As more dealerships move over to a pricing display with a printed sheet, we decided to create the worlds most affordable pricing unit.
Quality or appearance has not been compromised with a focus on retaining all the key features. Printed sheets are easily slotted in from the reverse of the units, in either A4 or A5 sizes.
The A5 sized unit, has been designed for smaller vehicles or those clients looking for a more minimal appearance. The A5 sheets, are an A4 sheet folded in half slotted into the reverse of the unit.
The A4 size is ideal for those looking to display more information or for larger vehicles, where the A5 may appear a little small. Both sizes of unit come with a clear large hook, which fixes the unit onto either sun visor.
The clear hooks reduce the visibility whilst viewed inside the vehicle, allowing the main display to be the most visually attractive.
All units are produced from durable polycarbonate materials, which means they can be used in both hot and cold conditions without warping or cracking.
The A5 sized units are also ideal for the more environmentally friendly company, as plastic and paper waste is greatly reduced. You will also save on ink costs when printing the vehicles prices / information out.
So the A5 units do have a number of benefits, and they are also more cost effective to produce and print. Saving each dealer on their POS materials.
Upgrade your dealership with affordable and quality POS materials
Now available in A4 and A5
Updated design to provide a professional appearance
Extremely affordable price
Reduced materials / wastage
Add your logo for that personal touch to stand out from the crowd.
The best on the market!
High quality using durable polycarbonate materials, which are also recyclable.
Complete with clear detachable hooks, x2 rivets (unassembled).
Position easily on the sun visors in cars, vans and motorhomes.
New A5 size perfect for a smaller, neater display.
We have spent a lot of time perfecting the quality and choosing the materials in which to use as being able to use recyclable materials where possible is an important factor we try to target.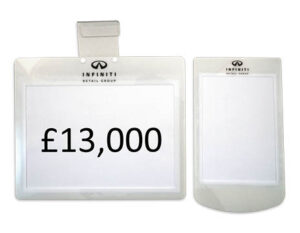 Easy and simple to change over!
Print out your own sheet and simply slide in.
For A4 pricing display print out making sure graphics are landscape and easy to read with all relevant information.
A5 pricing display graphics should be printed landscape on one half of an A4 sheet. This can then be folded in half to create desired size. You can easily format a quick template on word to make sure information is aligned.
New Pricing Display Units – A4 / A5 | Pricing Hangers for Cars, Vans & Motorhomes (portfolio-display.co.uk)
Get in touch for all enquiries big or small to get your pre-order in ready for January 2021!
Also check out our NEW Silent spec card holders A5.
New Silent Specification Sheet Holder | Car Sales A5 Display (portfolio-display.co.uk)
Email us on enquiries@portfolio-display.co.uk or call us on 01422 370021.