Vehicle Windscreen Display
Portfolio Display supply a wide range of windscreen display products suitable for cars, vans and trucks to the motor trade. Products include two sizes of caption stickers, printed slogan boards, uni-posca pens, window sashes and printed stickers. We can design your car windscreen display to your requirements with our professional in-house design team.
Caption Stickers 24"
From
£1.50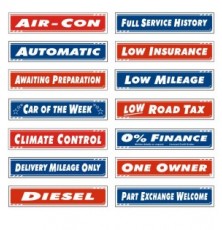 Caption Stickers 15"
From
£0.90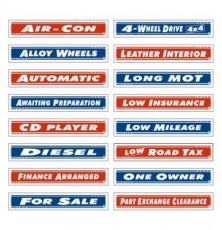 Caption Sticker Packs 24"
Price
£50.00
Caption Sticker Packs 15"
Price
£50.00
For Sale / Sold Stickers
From
£1.85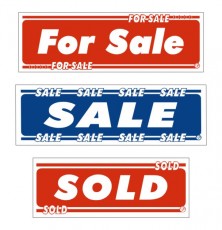 Windscreen Slogan Boards
Price
£3.00
Windscreen Sashes
From
£1.42
Personalised Mirror Hangers
From
£1.28
I want one pvc type windscreen banner for a car. Just to display two names, Is this something you can do?
we would recommend a vinyl sticker for this type of application - the stickers can be found here on this link http://www.portfolio-display.co.uk/printed-stickers/car-window-stickers.html
Please quote for 10 x Ex Demonstrator indscreen stickers
Thank you for your enquiry, if you use the quote button at the top of the page one of our friendly sales staff will be in contact with you regarding your enquiry
Cant find ONE OWNER or DIESEL in 24"
We have these in blue and white using the drop down menu on that page: http://www.portfolio-display.co.uk/windscreen-display/caption-stickers-24.html