Vehicle Pricing Units
Portfolio Display manufacture a wide range of pricing units for car dealer forecourt and showroom advertising. In stock you will find a range of vehicle pricing systems at a price to suit your budget. We also manufacture printed pricing units for car and commercial vehicle display based on your design requirement.
Clip In Visor Pricing Displays
From
£3.55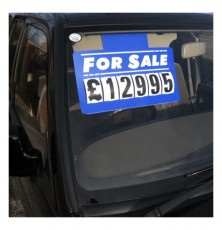 Clip-In Visor Pricing Figures
From
£2.00
Personalised Pricing Visors
From
£4.20
Two Tier Pricing Displays
From
£4.95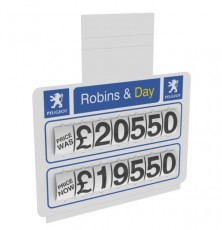 Deluxe Pricing Hangers
From
£12.35
A4 Showroom Pricing Hangers (PETG)
From
£8.40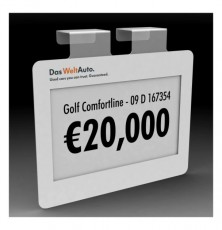 Showroom Pricing Units
From
£11.60
A4 Pricing Hangers
From
£12.00
Blank Clip-In Visor Pricing Displa…
From
£2.80
Hi there, I want to advertise both a cash price a finance monthly payment to buy and a monthly payment to lease (So effectivly 3 prices!) in cars on our forcourt. Have you any ideas that dont look "cheap"!
Yes we have a few finance pricing units for cars, we'll drop you some details on email.
can you design some price boards to my exact spec or do i have to use what designs you have?
No we can design vehicle pricing boards to whatever design you require, which can be in full colour.
I want to purchase personalised vehicle pricing systems, how can I do this?
Please use the "personalised" filter on the left of the website and then make your choice from our range of pricing displays.
Which pricing system is best for showing a sale price?
The 2 tier pricing unit shows a price was and price now.
Hi I was just wondering if the Clip-In Visor - Pricing Displays had the number figure sheets too when order them each.
The clip in visor figure sheets are not sold with the visor, they are sold independent of the visor & can be found here http://portfolio-display.co.uk/vehicle-pricing-units/clip-in-visor-pricing-figures.html