Poster Printing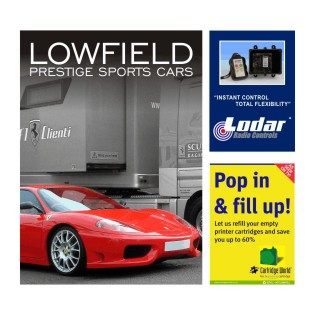 Description
Our poster printing service is ideal for all types of applications, including shop displays, advertising events and exhibitions. With a range of materials available for
outdoor or indoor use you can be assured that your poster will be fit for purpose. We have no minimum order, so we can print 1 offs or 1000. 

Prices include high definition full colour print using the latest digital printing technology. For alternative sizes and materials please use the quote request.

Price Breaks: Qty's 1, 2, 4, 5, 10, 20, 30, 40, 50, 60, 70, 80, 90, 100, 150, (150+ POA) 
Our poster printing service is ideal for all types of applications, including shop displays, advertising events and exhibitions. With a range of… read more
Note: A design proof is emailed for your approval after your order is placed

Specification
Great for advertising events, brands and special offers

Low cost effective form of advertising

High resolution full colour print up to 720dpi

Materials available for indoor & outdoor use

Laminating of posters available
Price Breaks: Qty's 1, 2, 4, 5, 10, 20, 30, 40, 50, 60, 70, 80, 90, 100, 150, (150+ POA)
Prices include high definition full colour print using the latest digital printing technology. For alternative sizes and materials please use the quote request.

Product Name: Poster Printing
Ref: 358PRPOS
Sizes Available: We can print to any size and quanity
Materials: Semi-gloss paper - 200gsm
Bannergrade PVC
Gloss Self Adhesive Vinyl

Colour: up to full colour
Graphic Application: Posters

Hi - do these one way window graphics reduce sunlight / glare coming in?
The Contra-Vision window graphic will reduce sunlight to a certain extent. However, it may not completely stop glare or sunlight from entering
Can foamex signs be printed both sides, if so whats price of an A2 printed foamex board?
We are able to print foamex panels double sided.
Hi I'm looking to print a large art canvas for use outdoors. it would be 6ft x 6ft and it needs to be printed on a canvas type material or material that is suitable to stay outdoors all year around. Can you advise if you can help? Thanks in advance
There are a number of options that are available for you to use in your application, we would strongly recommend the use of a printed banner product such as these shown here: http://www.portfolio-display.co.uk/banners/
Hi, Can you print A0 white self adhesive (perm) vinyl. UV stable inks for external use.
Yes, we can print self adhesive stickers with UV stable inks. For added protection we can also apply a laminate to the surface sticker
Can you print different sizes to what is shown on your website.
Yes, please use our quote request found on the product page. We only show popular sizes and can quote on any size and quantity.
Related Products