Flag Printing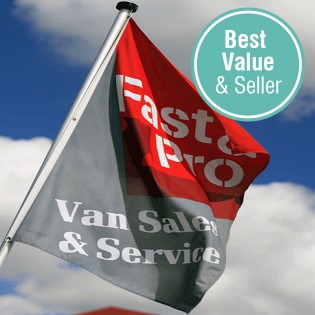 Description
We are specialists in the production of printed flags. Strong vibrant colours are achieved during flag printing. Custom printed flags are a great form of advertising. The standard finish of our flags is with eyelets or rope and toggle. Full colour printing is included in price. Express print within 5 working days available call +44 (0)1422-370021.
Note: A design proof is emailed for your approval after your order is placed

Specification
We print 1000's of flags each year

Up to full colour digital print


Flags finished as standard with eyelets

Flag printing using the highest quality processes

Option of double sided flags
All of our flags are printed in full colour onto white knitted polyester. We can Express print your flags within 5 working days if required at an additional charge. Please contact our sales team: +44 (0)1422-370021. We can also print to woven polyester and other quality materials on request.

Product Name: Flag Printing
Ref: 323FLAG
Flag Sizes: Use the quote request if your size or option is not available.

Materials: White knitted polyester - 110gsm
(Option of white woven polyester - 160gsm available on request)
Colours: Up to full colour  (included in price)
Graphic Application: Digital Print
Hi i was looking to get a photograph printed onto a flag, is this something you do?
Yes we can produce custom flags with full colour digital images.
I need flag printing for a wide range of sites, with different designs on. Can I receive a discount based on 5 designs, 8 flags of each type?
Yes we can work that out as 40 printed flags, so you receive the best possible rate.
Do you stock the hand-held flags as we have bought previously. This time we want the Union Flag, Cross of St George, Scottish & Welsh national flags Thanks Janet
We can offer printed flags based on this, we will be in contact with a quote.
Hi looking for a one off bespoke flag approx 5x3 with club logo is this possible and could you give an estimated cost (depending on design )
Yes we can print 1 off flags, we will send on a quote for this.
HI COULD YOU PLEASE PRINT ME A FLAG RED 5 FOOT BY 3 FOOT WITH WHITE LETTERING thanks gary, also 2 rings for hanging along the top.
Yes we can personalise the flag with whatever graphics you require. We will send on a quote shortly.
i want to hand my flag of scotland outside of my caravan can u help?
Thank you for your interest in the wide range of flags that we offer. There are a number of flags that you could use, we would recommend either the standard flag or the no screwz flag that can be found here http://www.portfolio-display.co.uk/flags/scotland-flags.html http://www.portfolio-display.co.uk/flags/noscrewz-flag-kits.html
I am looking for bunting and flags for the Olympics to decorate my bar.
There are a number of different types of bunting that you could use for this purpose (they come in a wide variety of lengths). There is also a number of different options you could choose for your flags as well. Below are links to these products: http://www.portfolio-display.co.uk/bunting/ http://www.portfolio-display.co.uk/flags/
Can the noscrewz flag be double-sided? With two opposing designs so both flags can be viewed by drivers approaching from both sides of the road.
Yes we can print different designs to each side of these noscrewz flagpoles.
I am looking for flags or something similar for my used car display forecourt. I want to bring them in at night.
Please see our range of portable flagpoles on our main flagpoles page, by selecting from the Yellow Button that says products, at the top of the site.
I am looking for 2 flags to be printed in full colour 2.5m x 2.5m onto knitted polyester roped and toggled to go up a flag mast. Would they be printed dye sub, and what is the cost?
We can quote on any size of flag by using our Quote Request button. Our flags are either digitally printed or screen printed. Depending on the design and number of colours, which we will advise on.
Related Products