Wall Mounted Flagpoles
Quality range of white wall mounted flagpoles and wall brackets with the option of adding a national flag by visiting our flags menu page. Our wall bracket flag poles are an excellent choice for companies who are limited for ground space. All wall fixed flag poles are in stock and can be ordered securely online.
Short Wall-Mounted Flagpoles
From
£30.50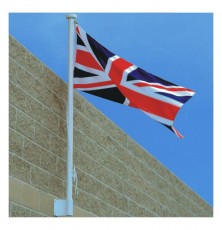 How much is a 2 meter x 1 Meter flag to go with your Wall Mounted flag pole, with letter to read Cromwell`s Bar, white flag Black lettering?
We will email you a quotation shortly.
How do you hang a union jack flag to a wall fixed flag pole? Is there a guide as to how it should be attached and hang.
There is a rope and toggle used to attach the union jack flag to your wall flagpole. Attach the toggle part to the top and the rope to the bottom, so you can lower your flag down if you have a pulley system.
If I order a wall mounted flag pole, could I order an England flag from you at the same time?
Yes, there are a number of different types of England flag that can be ordered at the same time such as these: http://portfolio-display.co.uk/flags/england-flags.html
can you supply a union jack flag to go with our flag pole?
We offer a wide range of sizes for this particular flag, here is a link to our page of Union Jack Flags http://www.portfolio-display.co.uk/flags/union-jack-flags.html
What is the recommended flag size for a flagpole of 6m in height?
If you're flying a union jack for example then 2 yards. If you want to fly your own flags on the flagpole then no larger than 2m x 1m.
Trying to find your brackets for wall mounted flag pole (for straight/upright erection). Can only find brakctes for either 45 or 90 degree erection? How do I find the straight brackets for wall mounting?
The 90 degree flagpole wall brackets are the upright version.
I am about to order a 2m flag pole, i would also like to order an upright (not 45 or 90 deg angle)bracket,but dont seem to be showing details or prices for the upright ones.can you advise please.
The upright ones are the 90 degree flagpole wall brackets.
Could you advise what the diameter of the 2m short wall mounted flag poles are please, as we already have brackets on the which we use for christmas trees and would like to utilise these whiles outside the festive period.
The diameter of these wall mounted short flagpoles are 44.5mm.
i have a straight 1750 x1145 flag would your 2m angled wall mounted pole be suitable?
Yes this would be fine for use with this. You could go to 2.5m but no less than 2m. http://www.portfolio-display.co.uk/flagpoles/wall-mounted-flagpoles/short-wall-mounted-flagpoles.html
do you sell a self standing flagpole that has ropes to attach to stakes or concrete weights it is to go in a courtyard hence the weights which we have.
The only free standing flagpoles we have for hard ground are our event ones, see here. You could possibly. http://portfoliodisplay.silkstream.org/flagpoles/portable-flagpoles/portable-event-flagpole.html