Portable Flagpoles
Wide range of portable flagpoles in stock suitable for car forecourts, special events, exhibitions and company promotion. All of our portable flag poles can be ordered securly online, with discounts on quantity. We supply portable flagpoles to all types of companies from car dealerships to retail companies used for special events.
Budget Portable Flagpoles
From
£93.50
Portable Branding Flagpole
From
£84.90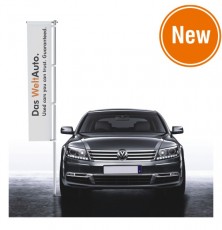 High Quality Portable Flagpoles
From
£58.75
Giant Portable Flagpoles
From
£161.00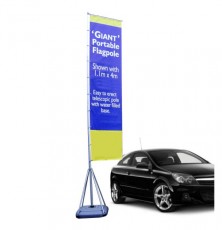 Portable Event Flagpole
From
£206.80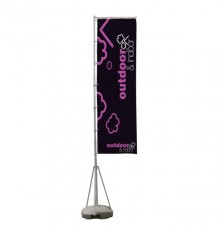 Guyed Portable Flagpoles
From
£120.50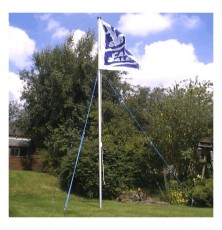 Free Standing Flagpoles
From
£179.70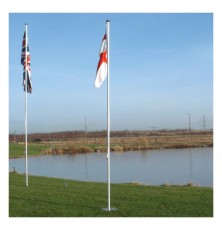 I have 8 flags 3m x 5m which I need to be able to parade in school with as a celebration of different coutries. Which type of flag pole do you recommend please?
These flags seem very large? Should the sizes be in ft rather than metres. We can offer some smaller portable flag poles for this type of use.
I'm after a portable flagpole and water base bottom roughly 10ft high?
We have a number of different portable flagpoles that are available, as a recommendation the windsail feather flags would be best suited to this.
i have a straight 1750 x1145 flag would your 2m angled wall mounted pole be suitable?
Yes this would be fine for use with this. You could go to 2.5m but no less than 2m. http://www.portfolio-display.co.uk/flagpoles/wall-mounted-flagpoles/short-wall-mounted-flagpoles.html
do you sell a self standing flagpole that has ropes to attach to stakes or concrete weights it is to go in a courtyard hence the weights which we have.
The only free standing flagpoles we have for hard ground are our event ones, see here. You could possibly. http://portfoliodisplay.silkstream.org/flagpoles/portable-flagpoles/portable-event-flagpole.html
i want a pole to put a flag up in my garden normal size flag
This is an ideal home flagpole for use in gardens, still a good quality product made from aluminium. http://www.portfolio-display.co.uk/flagpoles/ground-mounted-flagpoles/budget-flagpoles.html
Looking for a wooden lightweight flag pole to carry a banner 42x17" in parades. Needs to be 6-7ft.
Sorry we don't stock that sort of product.
I require a flagpole to put a Sky dish on, permanant position in field next to caravan. Thank you.
Sorry we only sell permanent ground mounted flagpoles.
I am looking for a pair of mini flag poles, the type you fit to a car wing, also flags to fit?
We don't advertise this product but we can supply it.
do we need planning permission to put a flagpole on our forecourt?
Thank you for your enquiry regarding the flagpoles that we offer. Planning permission requirements can vary from council to council around the UK. Your best option is to have a quick phone call to your local planning office to find out if planning permission is required for the products you have expressed an interest in.
I was wondering if you design tear drop flags as we are looking to have two flags done with a design to match our banner. However, we are unsure how to design it so that the flag looks good. Can you help?
Yes we have a professional design studio who can organise this. If you place your order online, select the I Require Artwork option from the drop down. We will then send you a design proof for your approval.