Permanent Aluminium Flagpoles
Description
High quality aluminium flagpoles finished in a durable super-gloss white. Supplied with a truckhead with pulley groove, nylon cleat and white halyard. These permanent flagpoles are easily assembled and available with the option of a ground sleeve or hinged base plate.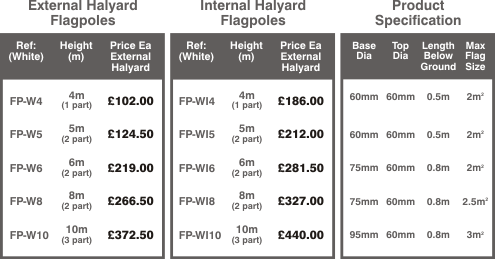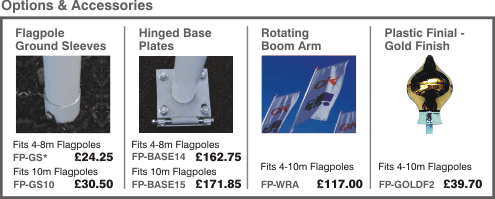 Ask the team...Looking to get a price for your Permanent Aluminium Flagpoles? Contact our team for a quote.
Request a Quote
Specification
Wide range of sizes

Choice of external or internal halyard 

Quality aluminium tubing powder coated in white

Easy to assemble and install

Flags sold separately, see our flag printing page
Price Breaks: Qty's 1-2, 3-5, 6-10, 11+
Product Name: Permanent Aluminium Flagpoles
Ref: FP-W*
Pole Height: 4m - 10m

Material: White aluminium poles
We want to fly a Union flag 24 hours, do you have any lighting options that will ensure we comply with the flag protocol.
All flags are flown 24 hours a day. Not many companies light them to comply with a flag protocol. If you want to enable this to happen, then we can offer a bespoke solution to add an up-light to shine on the flag. Would that be something you'd like further information on or images of?
Please quote for a 6m alu or f/glass pole with internal halyard, with quality Union flag (&size). Also advise of accessories available and fixing instructions. Delivery to TN33
Thanks for providing a delivery address postcode, we will send on a quote shortly for this.
Can we mount 2 flags on one of your permanent poles?
Due to the way that the flag is fixed to the flagpoles there is no reason why you couldn't hang a second flag on the flagpole. We have an option of a Gaff Bracket which holds out 2 to 3 flags separately.
do you have 10mtr floor mounted flagpoles with hindged bases?
There are a number of different flagpoles that we offer at this size such as the permanant aluminium flagpole, the fibreglass flagpole or the architectural pole.
do you supply & fit electrically operated flag poles?
At the present moment we do not supply electronic flag poles. However, we do offer internal halyard flag poles which due to the workings being inside the pole are more weather resistant than external halyard poles. Both of which can be found here: http://www.portfolio-display.co.uk/flagpoles/
Does the length of the pole include the part that goes in the ground or is that a separate part? There is quite a difference in the prices of internal and external halyards... is it worth paying the extra for a home flag pole..?
We offer a ground sleeve which the pole is delivered attached to. For a flagpole at home, you only need an internal halyard if you feel that it wouldn't be secure on a night. Otherwise an external halyard will be fine.
what outer diameter, is your FP-FC6E Flagpole
Our budget builders flagpoles are 50mm diameter. We also offer a similar commercial flagpole with 60mm diameter.
We need a 7 foot wood flag pole with wood finial.
Sorry we do not supply this type of flagpole only aluminium or fibreglass flag poles.
hi we run colebrook community centre and we are looking to replace our wooden poles with aluminium do you supply hinged poles and do you fit we are looking for 2 5mtre in height its got to go into earth.
Please see our Aluminium flagpoles, which can be supplied with a ground sleeve or hinged base. For these poles we can send you fitting instructions, which would be a lot more cost effective than having an installation team call out. A builder or professional gardener can fit these.
i have a straight 1750 x1145 flag would your 2m angled wall mounted pole be suitable?
Yes this would be fine for use with this. You could go to 2.5m but no less than 2m. http://www.portfolio-display.co.uk/flagpoles/wall-mounted-flagpoles/short-wall-mounted-flagpoles.html
Related Products