Personalised Printed Bunting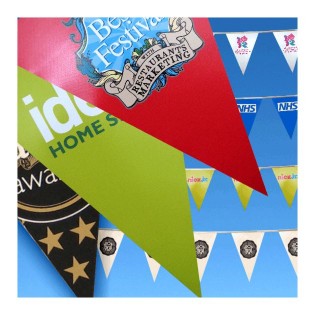 Description
Personalised bunting is ideal for all types of sales promotions and events. Printed bunting is suitable for advertising your company's brand with full colour printing available. Standard sizes: 10m, 15m, 20m, 25m, 30m (Minimum order 60m / x6 10m lengths).


Options available: We can print triangular, rectangular or bespoke pennant shapes on request.
Our standard material is durable PVC suitable for outdoor or indoor use.
We are also able to quote for bunting printed onto paper, suitable for short term indoor events (min quantity of x100 lengths).
Please state whether you require single or double sided print.
Specification
Triangular or rectangular pennants

External or internal use

Full colour digital print

We can manufacture to any length

Short term option available onto paper (min. quantity of x100 lengths)

Minimum order 60m / x6 10m lengths applies
Our personalised bunting is printed in full colour onto a high grade PVC material. We aim to despatch your order within 5 working days from approval of artwork.
Product Name: Personalised Printed Bunting
Ref: 322BUNTING
Standard Length Sizes: 10m, 15m, 20m, 25m, 30m (Min order 60m)

Pennant Size: 300mm x 200mm wide (11.8" x 9")
Material: White heavyduty PVC  (option of paper on request)
One of the displays I am doing for our village Jubilee Flower Festival is 'The Commonwealth of Nations'. Could you make up bunting comprising flags of all 54 countries? It is possible to buy flags for all 54 countries but no one can provide me with bunting - I would be most grateful - it is to go over an arch outside the church but the cost of 54 flags is prohibitive.
We would be more than happy to create personalised printed bunting for you, which is available here: http://www.portfolio-display.co.uk/bunting/personalised-bunting.html There is the option of flags but you may not be able to see all of the countries.
Can you print bunting with the customers photos on it? Thank you
Yes we can print full colour high quality images onto our printed bunting.
How much bunting will I need to decorate round 33ft boat
It depends on how wide your boat is, but I would say at least 100ft all round. This would give 20ft for the width on each end.
What length is your bunting?
Please see the Specification section on each product page, which shows the lengths of each string of bunting. You need to scroll down the page on the product to see this. http://portfoliodisplay.silkstream.org/bunting/
We are celebrating our 50 years this October and would like to decorate with GOLD bunting. Can you help?
Yes please order from this page and select what size and quantity you require. Add your colour option in the notes part in the checkout stage. http://portfoliodisplay.silkstream.org/bunting/mixed-colour-bunting.html
Gold Bunting. Our club is celebrating 50 years this October and we wish to decorate the whole building in bunting and balloons. Can you give me prices, sizes and availability please.
You can order gold bunting off this page, our mixed colour selection. Simply choose the colours you want and the sizes needed. http://portfoliodisplay.silkstream.org/bunting/mixed-colour-bunting.html
Can you produce bunting with the International Lions Club logo with the words Newquay Lions Club written around the logo. If so what is the cost?
Yes we can produce this using our in-house print service. One of our sales team will send through a quotation.
Please can you provide a quote for 15m in the following colours - violet/green and white? What length does it come in also please? Thank you
All of our prices on this product can be found on this page. Just select the drop down options and choose your quantity. http://www.portfolio-display.co.uk/bunting/mixed-colour-bunting.html
I run a beach cafe in the highlands of Scotland and I am looking for bunting containing the 4 UK flags and the union flag. Can you help?
Yes we would have to print this up as a bespoke as its not a stock item. Our minimum run is quantity of x6, 10m lengths. Would you need a quote for this?
Hi I would like to buy a small quantity of bunting for a shop window display which would say Prom Dresses
The minimum we can manufacture when bespoke is x60m? Would that be too much for this.
Related Products